Mid Life Crisis Part 3
Crazy Webmaster's annual race for 1999... a Criterium! What was he thinking???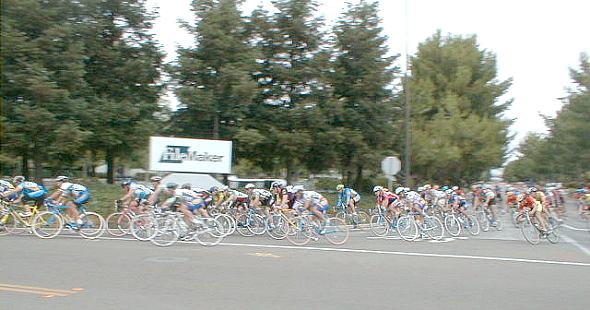 August 8, 1999. In the old days, I used to hate criteriums. Silly bike races that went round and round and round, lap after lap, with riders packed together in the corners like sardines. Road races were much more fun and, I believe, a lot safer. Only one problem with road racing... you really have to be in shape to be there at the finish.
Criteriums aren't like that. Technique and knowledge is far more important than sheer strength, since there typically aren't hills to contend with...just the accordion effect as the pack strings out in the corners and then bunches back up on the straightaways. I used to think of Criteriums as cheating, since you could be way out of shape and still do OK...road racing was the real test.
Of course, as one gets older, cheating doesn't sound so bad anymore! Still, with no desire to spill blood, I've limited my annual USCF race to the road variety...until now. I had no desire to do a criterium, outside of a certain morbid curiosity, but the 1999 schedule didn't have a whole lot of road events on Sundays, my only day off. That plus the Timpany Criterium has become something of a Chain Reaction event for our staff...last year we had maybe 10 riders in it.
Another nice thing...this race takes place at a reasonable hour...10am...and it only takes a half hour to drive to. What more could one ask for?
So I assemble at the starting line with maybe 80-90 other Cat 4 & Cat 5 riders (actually, nearly all of them Cat 4 it seemed...never a line at the Cat 5 table!). No butterflies this time, certainly nothing like that first road race two years ago. Mostly curiosity...am I fast enough? How fast is a criterium these days? How squirrely are the riders? What's it like going through corners, pedaling at high speed the whole way?
From the gun the pace moves pretty quickly...certainly no "get familiar with the course" lap here! I started towards the back and stayed there through the first couple of laps, getting my feet wet. To my great surprise, it was very easy staying with the pack, and I constantly had to look down at my computer to verify that we were, indeed, moving fairly fast. On the straights we were moving from 27-31 mph, and generally about 23 through the corners. Average speed at the end was precisely 26 miles per hour over a distance of 18.4 miles (someone else told me he clocked it at 27.2 mph average speed...too bad I trust the accuracy of my computer!).
I stayed around the back-middle section of the pack, frequently thinking to myself, you know, sure, it's comfortable here, but what if Vaughters was saying that in the Tour de France just prior to that nasty mid-field crash in the third stage (which took him out of the race)? Dick Kiser from our Redwood City store was doing a much better job than I, maintaining a position considerably closer to the front. Keep in mind that the "accordion effect" actually makes it much easier to ride up towards the front...you don't slow down as much going into the corners, so you don't have to speed up as much coming back out. But my confidence level just wasn't quite there...yet.
With about 5 laps of the 20 lap event gone, I suffered my only real mishap of the race when I hit a recessed sewer access plate at high speed. I was fine, but my bars slipped slightly downward into a (for me) uncomfortable position. Dick likes to ride that way, but I much prefer my brake levers slightly elevated. Plus, I lost a bit of confidence in the handlebar's ability to stay put for the rest of the race! So much for expensive Ibis Titanium stems.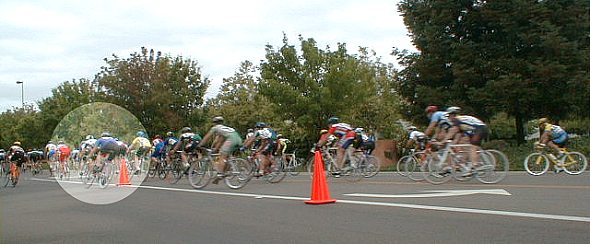 I also had a near-major mishap involving a cone, and I had the presence of mind to do it in front of a camera! That's me in the highlighted circle above. Coming around the corner just before the start/finish, I got bumped off my line by another rider and had to seemingly jump my bike sideways to avoid hitting the cone. One of those things that happens so fast you really have no idea whatsoever how you pulled it off and remained upright!
With about six laps down, I no longer worried that I'd get dropped off the back...it was all coming back to me, and finishing this race with the pack was simply a matter of mental toughness and not losing my nerve. Of course, nerves are in short supply in a Cat 4/5 event, as pushing and shoving in the corners, mostly unintentional, is the rule. In fact, I don't recall nearly as much contact with other riders back in the days when I used to do crits (criteriums) twice a week!
By the way, one ray of hope for those who, like me, carry a bit more ballast than the average racer...it makes it much easier to hold your line when someone bumps you! (Previously, I'd thought the main advantage was for traction when climbing...you know, kinda like how they weigh down train engines so they can climb better...yeah right).
There were no successful attempts at getting away, probably because the course layout didn't favor that...too easy to catch back up to people on the straights. Even the three primes (mid-race prizes for the first across the finish line) didn't find anyone more than 20 yards off the front.
By about lap 15 I'm finally getting into the swing of things, moving up a bit and maintaining position more easily. I'm also beginning to realize something else...and I wish I hadn't. This isn't where I'm supposed to be. The memories come back, the strategies, the need to be up at the front for the finish. Egad, calm down I tell myself, I haven't ridden in a high-speed pack for years!!! But there's that voice that keeps calling, and there certainly isn't a problem with the legs. In fact, sprinting out of the corners is almost fun; I tell my legs what to do, and they do it, period. I'm almost having, dare I say, a good time!
But at the end things start to get pretty darned squirrely, and with two laps to go the corners start to become downright dangerous, people yelling, lines not being held etc. I have two choices- go to the front, which I lack the confidence to believe is possible, or find a comfortable place mid-field where it seems like I'll be safe. I chose the latter option. I shouldn't have.
For the final corner I'm pretty-much mid field, expecting all manner of riders to come flying past me. Guess what? They don't! My line is steady, I'm holding my own and then some. In fact, I'm still passing people at the end, and finish the race with a mixture of emotions, including-
#1: That wasn't as hard as I thought it would be.
#2: That wasn't as hard as it should have been!
#3: Crits aren't so bad as long as you just go with the flow. Don't worry about your bike handling, just try to ride smoothly. If the other guy can do it, so can you...just follow his lead.
#4: How can you minimize just how wonderful STI shifting is? Going into and out of the corners, shifting anytime you felt like it...this is heaven!
#5: Doing another crit would be dangerous, as there's this voice in the back of my mind that says, hey, what's the point if you're not up at the front at the end? If I want to have a good time on a bike, go on a nice ride. If I want to race...well, that's another thing entirely. Why risk the crashes, why pay the money if it's just to finish with the pack? In a road race, it's a different story...half the reason I used to race was to visit new places and ride roads I hadn't been on before. Crits? Yeah, sure, I want to map out the precise location of a sewer access plate by riding over it 20 times, just in case I might come that way again...
#6: My bike is awesome! This was my first crit on an OCLV with Rolf wheels, and I just can't say enough for how well it held its line and never wobbled. Shameful plug for what we sell? Sure! But it has the benefit of being true. With the exception of the stem slippage noted previously, it performed wonderfully. What I could have done with this bike 25 years ago...
Many thanks go to Bruno, Amber, Steve, Amy, Jeff, Heather, Paul, Brent, Pam, Courtney, Eric, Igor & Sergei for being out there cheering us on, and to Pete, Clayton, Mario, Jesus, Jim and Dick, all fellow Chain Reaction employees and alumni "flying the flag" in Chain Reaction jerseys! And we shouldn't forget Joe either, our only employee racing who wasn't appropriately attired. We'll have to talk to him about that.
And if you somehow missed the race that started this all, check out the original mid-life-crisis-on-a-bike story...one of the most popular stories on our website!

More photos from the Timpany Criterium...and one from the past!

Above you see a photo of me after my very first bicycle race, the Redwood City Criterium, in 1972. 27 years later, after the Timpany Criterium...I'm in just a bit better shape! The first race found me on the ground after a crash on gravel in a turn...lost a lot of skin, including about two feet of hamburger on my left leg and pretty nasty stuff on the elbows as well. Behind me are my Tifosi at the time, Mike, Mark and Clint. You can't tell from the photo, but that's a classic Campy hat I'm wearing...I was pretty much living the life of the kid in the movie Breaking Away.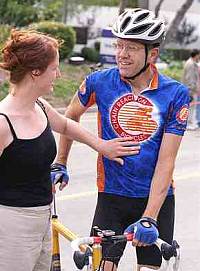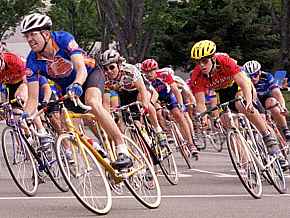 As you can see here, the Tifosi have improved a bit from my first race, as Dick is being welcomed back to the land of the living by Courtney, one of many who came out to cheer us on! On the right you see Dick in action, jaw clenched, bike leaned over, ready to prove once again that youth is wasted on the young!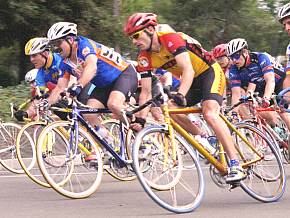 And at the front here you see Pete, the most "experienced" (ok, oldest) staff member in our Los Altos store. Considering this was Pete's first race in two years he did very well (as did all of our riders!). Just to the outside of Pete is Todd, a Chain Reaction alumni.
Last updated 09/08/07
since 04/13/03